Our Services
905-844-7778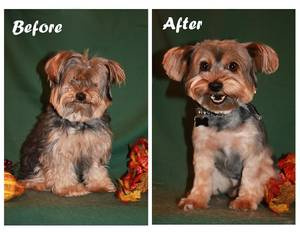 Appointments are normally scheduled on the hour and half hour and it generally takes approximately 2 hours for small dogs and 2 1/2 hours for larger dogs to be fully groomed. Our first appointment is at 8am and our last scheduled daily appointment is usually between 2pm and 3pm. Specialty cuts on some breeds take a little longer.
Prices for a "Full Groom" include a bath with our top of the line shampoos & conditioner. Your pet will also have their nails trimmed, ears cleaned and than expertly clipped & styled. Prices may vary slightly due to the breed, condition of coat and form of groom. Our groomer will go over your requirements with you when you drop off your pet.
SMALL ( $60 to $70 ) up to 25lbs
[ie. Bichon Frise, Miniture Poodle, Shih Tzu, Maltese, Yorkshire Terrier, Cockapoo, Mini Schnauzer,
etc.]
MEDIUM ( $75 to $85 ) up to 50lbs
[ie. English Springer Spaniel, Border Collie, Soft Coated Wheaten Terrier, Cocker Spaniel, Larger Cockapoos, etc.]
LARGE ( $95 to $125 ) up to 90lbs
[ie. Standard Poodle -Non specialty cut, Golden Retriever, Bernese Mountain Dog, Goldendoodle, Labradoodle, etc. ]
X LARGE ($150 and Up) Varies by breed and size.
(ie. English Sheepdog, Saint Bernard, Great Pyrenees, etc) Unfortunately we can not do dogs over 140lbs
Bath only (includes nails & ear cleaning) - Short haired dogs: Long haired dogs add $5.00 for trimming of
paws, face and potty patch area. See Bath / Tidy below.
X- Small - ($30 - $+ )
Small - ( $45 - $+ )
Medium - ( $55 - $+ )*
Large - ( $65 - $+ )*
X-Large - ( $90 - $+ )*
· * Add $20 -$40 for excessive undercoat removal.
Bath and Tidy
For longer haired dogs - No length cut, includes - bath, blow dry, nails, ear cleaning and trim around face, feet and potty patch areas. Add $5.00 to $10.00* to bath charges, (depending on breed and size) *most small and medium breeds. (i.e. - Small - Shih Tzu -$50.00 - Medium - Standard Schnauzer - $60.00 Large - Goldendoodle - $75.00)
Other Services:
**Express Service $15.00 Add - In/Out front of the line service..we don't stop until your pet is finished.
**Nail Trim $ 10.00 (Bunnys/Guinea Pigs/Hamsters - $10) (Cats - $15.00 must be in carrier)
**Nail Trim / Pads/ Ear Cleaning $18.00
**Anal Glands $10.00 with grooming - $15.00 without grooming
**Pedicure - Nail Trim, Grinding, Ears $9.50 with Grooming - $18.00 without grooming
**Teeth Scaling & Brushing $19.95 - Tarter removal - (see example on our photo album page)
**Quick Trims (feet,face potty patch,) $30.00 to $40.00 - No bath. An excellent way to maintain your pet between grooms.
**Specialty Baths (Skunk, Flea) $25-30.00 (extra to bath charges - after hours emergency +$80.00)
**Pickup / Drop (Oakville South) $25.00
**Brush Outs $15.00 to $35.00 - Depending on breed.
**Specialty Shampoo $5.00 (i.e. various choices, medicated or furminator)
**Face Trim Free - between groomings face trim for our clients
**Clean Face / Feet $10.00 additional to grooming fee (i.e.Poodle's)
Packages:
Several of our clients with longhaired high maintenance dogs opt for our weekly grooming plan. You drop your furry friend off every week on a scheduled day for a brush out and clean up and then every 4th week your pet is fully groomed and bathed. Simply pay us once a month at an agreed to rate (based on the breed) A great way to keep your pet looking fantastic (or furtastic) everyday at a reasonable price. If you have a long haired breed, coat maintenance (i.e. regular brushing) is essential to prevent matting.
Book an appointment: 905-844-7778 - Call Anytime or E-Mail us at doggiedipandclip@live.ca